With an abundance of natural resources and a fast-growing economy, Papua New Guinea is currently home to High Arctic's International Operations, where we provide significant advantages in value and performance for our customers.
Since 2007, the company has grown to become a leading provider of well site services in some of the most challenging environments in Papua New Guinea. High Arctic has always believed that every challenge has a solution and no problem is too difficult.
Our comprehensive and reliable equipment line-up – including both conventional and heli-portable drilling and workover rigs, combined with our logistics and support services and professionally trained crews delivering high quality, cost effective services in drilling, workovers, completions, and more. Our fleet of specialized rental equipment includes camps, cranes, trucks, forklifts, pumps, gensets and lighting towers.
High Arctic is one of the world's largest providers of HDPE Composite Mat Systems; temporary road and site access solutions that are environmentally friendly, temporary and fit for purpose. Our worksite mats provide for a strong, durable, uniform surface; perfect for access to special environments, the stabilization of heavy equipment or ground protection. The mats have been engineered to allow for the rapid construction of site locations and temporary roads with minimum crew and equipment in the most extreme or environmentally sensitive conditions.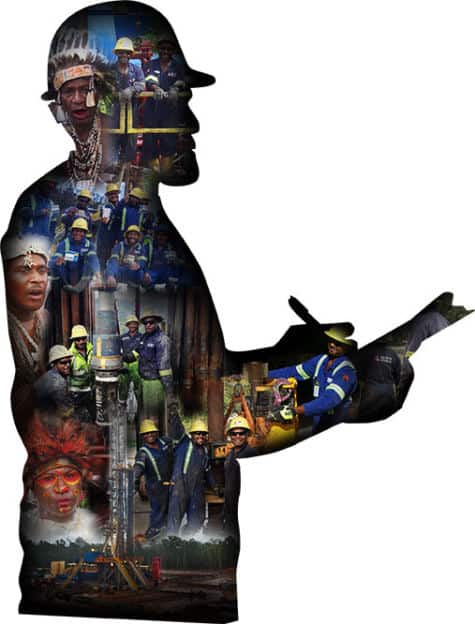 Our Service Lines Include:
PNG Operations Timeline
In September 2019 High Arctic's PNG team achieved a cumulative 2 Million worked hours without a recordable incident.

High Arctic realised the goal of maintaining a zero total recordable incident rate across the business for a total of three years.

High Arctic realised the goal of maintaining a zero total recordable incident rate across the business for a total of two years.

Renew contracts with Oil Search to operate drilling rigs 103 and 104 for a further 3 years and provide support services to drilling operations.

In April 2018 High Arctic's PNG team achieved a cumulative 1 Million worked hours without a recordable incident.

Papua New Guinea is rocked by a massive 7.5 Earthquake and series of large aftershocks in late February through April 2018. High Arctic has one operation effected when fissures open on the well site but suffers no significant damage to its assets. Meanwhile High Arctic's recordable incident free period reached the 18-month milestone.

Following the conclusion of its contract with Exxon Mobil in June 2017, and after reaching agreement in December 2017, Oil Search picks up the first load of a scaled down Rig 115 to drill an appraisal well at Kimu in the Gulf Province. The rigs flexibility is seen as an advantage for the cost sensitive project.

High Arctic and Oil Search agree to mobilise a highly mobile land rig for use in Papua New Guinea to prove the efficacy of a small footprint rig for field optimisation work in areas with or close to existing roads.

Having many times achieved one or more years Lost Time Injury (LTI) free, High Arctic goes one step further in its efforts to eliminate all workplace injuries, by achieving one year without any recordable incidents. This subsequently continued through the whole of 2017, ensuring that 2017 represented a whole calendar year without recordable incidents.

Rig 104 successfully finished drilling activity on Muruk 1 and its many exploration sidetracks. The well is hailed a success and the confirmed discovery of a massive new gas field draws international attention to PNG again.

While already providing services to Exxon Mobil in PNG through High Arctic's Provision of HDPE Mat Systems to the PNG LNG project, High Arctic adds Exxon Mobil as a contracted customer for Drilling Services and Rolling Stock Rental through their acquisition of InterOil.

Antelope 7 drilling commences with Total as Operator. This final key appraisal well in the Antelope field attracts significant attention within PNG and from abroad and coincides with a lengthy period of finalising the recently announced acquisition of InterOil, the Operating Company who discovered Antelope, by the Exxon Mobil Corporation.

As the two companies contemplate various rig ownership structures, the term of the drilling and association support services agreements between Oil Search and High Arctic are extended, ultimately up to July 2018.

With the hand back of Rig 103 from InterOil, High Arctic commenced services under Contract to Repsol (formerly Talisman Niugini) with Drilling commencing in April for two wells in the Western Province.

Following the commencement of Operatorship transition for the PRL 15 Joint Venture, High Arctic drilled the next two Antelope wells (6 & 7) under contract to Total with Rig 115. Total expands to the number of High Arctic's major HDPE Mat Systems and Rolling Stock customers to six.

Rig 116 arrives in PNG commencing contract with InterOil after an extensive refurbishment and incorporating additional upgraded capability. Similar upgraded capability is subsequently integrated in to Rig 115 as well.

The spudding in of appraisal well Triceratops #3 for InterOil marks the start of operations in PNG for Rig 115.

Rig 115 arrives in PNG after a fulsome upgrade and refurbishment and commences contract with InterOil.

To meet the growing demand for High Arctic's drilling services, High Arctic negotiates the purchase of two "near new" 1500 Horse Power Heli-portable drilling rigs from Brazil and ships them to Houston, Texas for a comprehensive upgrade and rebirth by the Original Manufacturer.

With oilfield activity levels in PNG at an all-time high, High Arctic deploys 9,600 HDPE Mat units across all five key customers.

Following agreement in December 2013, Rig 103 commences contract services for InterOil in January 2014 commencing with Raptor exploration well and followed by two successful Antelope wells. The contract coincides with the addition of InterOil to High Arctic's HDPE Mat Systems customer base.

Renew contracts with Oil Search to operate drilling rigs 103 and 104 for a further 3 years and provide support services to drilling operations.

Increase in the PNG holding of Durabase® Mats to over 7,500 units to meet high demand associated with the PNG LNG project.

In response to increased work activity, High Arctic increases the PNG rolling stock fleet and HDPE Mat Systems for roads and work sites. Support equipment now includes camps, HDPE Mat Systems, cranes, forklifts and trucks on a rental basis; customers including Oil Search, ExxonMobil, Talisman Energy and Horizon Oil.

Rig 102 is signed onto a new contract with Oil Search, including major upgrades and modifications to the existing unit. In addition, O.S.L extends their contract for Rig 104.

Oil Search extends their contract for Rig 104 taking the term up to December 2013.

High Arctic secures a new contract for Rig 103 to drill two wells (+ 2 options) for Eaglewood Energy.

Rig 104, the same design and specification as Rig 103, was mobilized to Papua New Guinea and begins its first well under contract with Oil Search.

High Arctic continued its growth in Papua New Guinea by mobilizing and operating Hydraulic Workover Rig 102, previously known as "The Cadomin".

During 2007, High Arctic provides management services related to the construction of an additional heli-portable rig mobilized to Papua New Guinea. By the end of year, Rig 103 already spud its first well under a contract with Oil Search.

In February 2007, High Arctic enters into a drilling services contract with Oil Search Limited to operate a heli-portable rig in Papua New Guinea. The designated Rig 101 spud its first well in October of the same year.

Our Customers