Nitrogen Pumping Units
High Arctic's fleet of Pumper Units operate onsite to deliver nitrogen to the oil and gas industry when and where required. With High Arctic's multiple supply sites, you're assured of fast service throughout Alberta and British Columbia.
Our fleet (low-rate) uses a Heat Recovery Vaporizer that deploys waste heat from the pumper unit; the Vaporizer removes the need for open flame to convert the liquid to gas. This closed heat system means that our low-rate Pumper Units can be deployed close to the well head or any other environment where an open flame poses a risk.
Each Pumper Unit is operated by highly competent, professional, safety-oriented supervisors, each of whom is highly trained in the specialty N2 delivery. High Arctic provides 24/7 support and dispatch as well, so your job productivity is maximized.
Whether your needs are well-site completions, production, pipelines, or plants, all your nitroge requirements can be handled by our Pumper Units, and our complete resupply and backup services.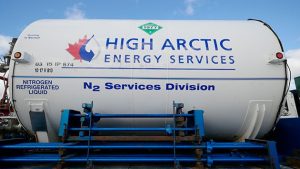 Low Rate N2 Pumping Unit

Pump rates from 5 to 75 scm per minute at 10,000 psi
Heat recovery system with no open flame
Tank capacity of 7,500 scm
Temperature capability of -20⁰C to 80⁰C
High Arctic's N2 Transport Bulkers
With a 21,000 scm tank capacity our Nitrogen Transport Bulkers are available 24 hours a day to supply our customers with large volume requirements. When not directly working for a customer, we keep our bulkers on the road, topping up our nitrogen pumpers wherever they may be. By continually refilling our pumps remotely, we can keep our operators rested and our equipment readily available for the next call.
21,500m3 tank capacity
Available 24 hours a day, 7 days a week
Locations
Our operation facilities are well positioned to meet the service demands of a wide variety of completions and workovers in Western Canada.